Oceana to launch scientific expedition to protect Gulf of Mexico reefs
Press Release Date: July 27, 2021
Location: Mexico City
Oceana to investigate state of under-explored reefs using cutting-edge technology.
Mexico's Scorpion Reef and Bajos del Norte are threatened by illegal fishing, pollution, and potentially destructive tourism.
Actor and Expedition Ambassador Luis Gerardo Méndez to join and draw attention to need for protections.
Expedition partner, Blancpain, continues its support for innovative ocean exploration.
On August 9, Oceana will launch the Project Alacranes expedition to investigate and document the condition of two under-explored underwater areas, which contain some of the greatest biodiversity in the Gulf of Mexico. For 15 days, the expedition will travel through the Alacranes National Park (Scorpion Reef in English) and Bajos del Norte, which, due to their distance from the coast, are believed to remain relatively undisturbed by the impacts of human activities.
The expedition marks Oceana's first in Mexico. Oceana, the largest international organization dedicated solely to ocean conservation, has launched more than 40 scientific expeditions around the world to document essential underwater areas and win necessary protections through policy campaigns.
"Our objective is to collect scientific information that allows us to determine the current status of this marine protected area (MPA), and to use this information to promote the changes needed to protect and guarantee the future of this important ecosystem," said Renata Terrazas, leader of Oceana in Mexico, at a press conference.
Mexico is one of 17 nations with the greatest biodiversity in its territory. Scorpion Reef, located 140 km north of the Yucatan Peninsula, is the largest reef in the southern Gulf of Mexico and is designated as a marine protected area. The reef is home to numerous endangered species and a variety of commercial species that reproduce there and, when mature, later migrate to areas where fishing is allowed.
"Despite being a protected area, the Scorpion Reef is not exempt from pollution, illegal fishing, and potentially destructive tourism, threats that must be fought," said Terrazas. "In the case of Bajos del Norte, the risk is greater because it has no legal protection, and very little research has been done on its status, nor on the species that live there."
Mariana Reyna, leader of the expedition, also noted Scorpion Reef's importance in the face of climate change and warming ocean waters. "International studies include the Scorpion Reef on a list of coral reefs that have a better chance of surviving the effects of climate change. That is why it is so important to explore these places where few expeditions have been and with technology that has never been used in these areas to collect the evidence necessary to protect and preserve this habitat."
From August 9-23, ten scientists with different specialties will explore the area and do environmental DNA analysis and photomosaic modeling, which will be used to create 3D maps of the reefs and enable a census of the species that inhabit them or use this area as part of their migratory routes. At least 136 species of fish, 34 species of coral, various dolphin species, and commercially valuable marine animals, such as queen conch and grouper, live in the two areas that will be explored by the Project Alacranes expedition.
Aboard the Caribbean Kraken, the Project Alacranes expedition will first travel to the reefs of the Bajos del Norte, a little known area far from the impact of human activities where little scientific research has been conducted on the biological wealth it holds. From there it will return to Puerto Progreso to restock and, 34 hours later, it will embark for Scorpion Reef.
"The recovery and conservation of marine habitats in Mexico translates into greater economic and social benefits, especially for local fishermen. Adequate protection of these reefs ensures that future generations can enjoy their beauty and resources," said Miguel Rivas, Director of Habitat Campaigns at Oceana.
Environmental DNA analysis will help identify species in the area, and the use of a sonar technology called 'Fish Hunter PRO' will provide additional information on the number of schools of fish. "This will make it possible to establish parameters for monitoring fish stocks of commercial interest, and to create guidelines for the sustainable management of fishery resources," Rivas said.
An expedition of the magnitude of Project Alacranes has important challenges, for which Renata Terrazas valued working with a partner like Blancpain, which has a legacy of ocean exploration that began with its Fifty Fathoms diving watch nearly 70 years ago.
Marc A. Hayek, Blancpain President & CEO, said, "Blancpain has had an incredibly close relationship with the ocean since the early 1950s, when we released the Fifty Fathoms, the first modern diving watch. With the Blancpain Ocean Commitment, our aim is to raise awareness of the importance of the oceans for human life, and to contribute to their protection. To do so, we center our initiatives on three axes: beauty, to show people what the underwater world has to offer and arouse their interest; knowledge, to learn about the areas that need attention; and protection, to ensure efficient ocean conservation. We are proud to be part of Project Alacranes, which meets all three of these criteria, and have faith in Oceana's strength in exploration, scientific research and advocacy to make a difference towards Mexico's biodiversity, the local populations, and ultimately the world."
Actor and Expedition Ambassador Luis Gerardo Méndez said, "I have been close to Oceana and its mission for two years. I do this because Oceana's work is critical to the future of marine life and humanity. My wish is that many future generations continue to enjoy the richness of Mexican oceans. I find it incredible to imagine that the best scientists from different countries will be traveling aboard the Kraken. They will later dive and learn in the Alacranes Reef, helping them to understand the threats and solutions for its conservation."
When the expedition restocks in Puerto Progreso, Oceana will send video footage and some preliminary findings to the media and share these assets on Oceana's social media platforms. Anyone can follow this scientific expedition at @OceanaMexico on Twitter and Facebook, and @oceanamexico on Instagram.
Oceana also recognizes the contributions of Sobrato Philanthropies and the Wyss Foundation, whose support is instrumental to the expedition and Oceana's ongoing campaigns in Mexico.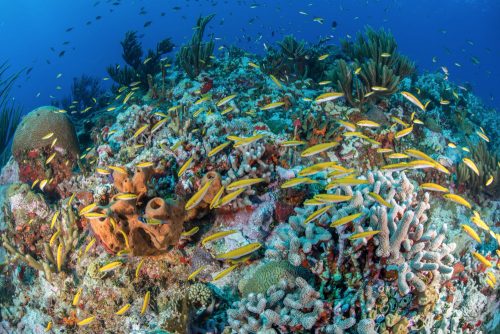 Juvenile Bluehead Wrasse (Thalassoma bifasciatum) in Scorpion Reef (Arrecife Alacranes).
Photo credit: Rodrigo Friscione
To access more photos and videos, click here.
Oceana is the largest international advocacy organization dedicated solely to ocean conservation. Oceana is rebuilding abundant and biodiverse oceans by winning science-based policies in countries that control one-third of the world's wild fish catch. With more than 225 victories that stop overfishing, habitat destruction, pollution, and the killing of threatened species like turtles and sharks, Oceana's campaigns are delivering results. A restored ocean means that 1 billion people can enjoy a healthy seafood meal, every day, forever. Together, we can save the oceans and help feed the world. Visit www.oceana.org to learn more.
About Blancpain Ocean Commitment (BOC)
Exploring and preserving the world's oceans is core to Blancpain. Throughout the nearly 70-year history of the Fifty Fathoms – the world's first modern diving watch – Blancpain has woven close ties with the explorers, photographers, scientists, and environmentalists who treasure these precious resources. These affinities have inspired the Manufacture to support important activities and initiatives dedicated to the oceans.
In recent years, the Blancpain Ocean Commitment (BOC) has invested in oceanographic initiatives and partnerships with leading institutions, such as the Pristine Seas expeditions, Laurent Ballesta's Gombessa project, the World Ocean Initiative organised by The Economist, and World Oceans Day, which takes place every year at the United Nations headquarters in New York.
To date, all these activities in support of exploring and preserving the oceans, undertaken with great passion by Blancpain, have led to tangible results, and made a significant contribution in extending the surface of marine protected areas around the world, with the addition of more than four million square kilometres. Click here for more information about the Blancpain Ocean Commitment.