Report | April, 2010
Adrift! Swordfish and driftnets in the Mediterranean Sea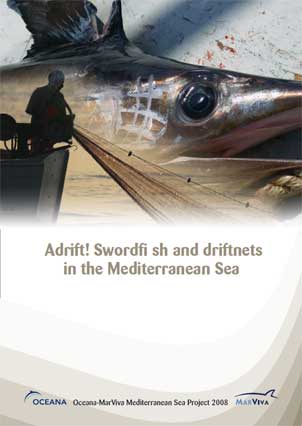 In 2008, Oceana and MarViva collaborated in a campaign to definitively eliminate the use of driftnets in the Mediterranean. Banned by the United Nations more than 15 years ago, this gear is still being used and constitutes a serious threat for cetaceans, turtles and sharks. This fishery mainly targets the already overexploited swordfish stock which is poorly regulated. Currently, more than 20% of the swordfish catch in the Mediterranean is taken using driftnets. These nets are also used illegally to catch bluefin tuna.
As a result of the campaign, Oceana and MarViva identified 93 driftnetters in Italy and the main ports used for this fishing gear in Morocco. Furthermore, the organisations have confirmed the definitive elimination of the French thonaille in the Mediterranean. Other countries, such as Turkey and Algeria, continue to use this gear.
This document presents a general overview of the use of driftnets in the Mediterranean and the results of the Oceana and MarViva campaign in order to actively contribute to the definitive elimination of this unsustainable fishing gear.