Report | May, 2011
Bait and Switch: How Seafood Fraud Hurts Our Oceans, Our Wallets and Our Health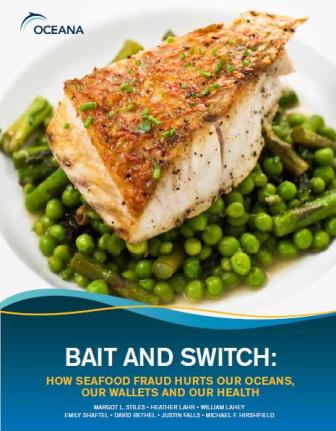 Seafood fraud is the practice of misleading consumers about their seafood in order to increase profits. Along with ripping off shoppers, these actions can have negative impacts on marine conservation efforts and human health.
Types of seafood fraud include substituting one species for another without changing the label, including less seafood in the package than is indicated on the label, adding too much ice to seafood in order to increase the weight and shipping seafood products through different countries in order to avoid duties and tariffs.
Although seafood is one of the most popular foods in the United States, consumers are routinely given little or no information about where their seafood is from. Plus, the information provided on seafood labels is often misleading or fraudulent.
Despite growing concern about where our food comes from, consumers are frequently served the wrong fish – a completely different species than the one they paid for.
This report outlines the problems associated with seafood fraud and the steps that can be taken to ensure that consumers know where their seafood comes from and be able to trace it all the way back to the sea.