Report | April, 2011
By-Catch and Discard Management: The Key to Achieving Responsible and Sustainable Fisheries in Europe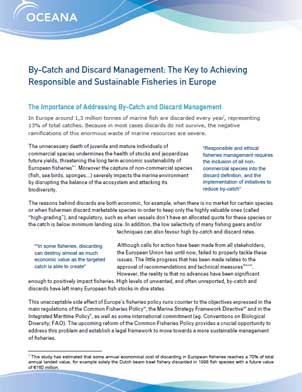 The Importance of Addressing By-Catch and Discard Management.
In Europe around 1,3 million tonnes of marine fish are discarded every year, representing 13% of total catches. Because in most cases discards do not survive, the negative ramifications of this enormous waste of marine resources are severe.
The unnecessary death of juvenile and mature individuals of commercial species undermines the health of stocks and jeopardizes future yields, threatening the long term economic sustainability of European fisheries. Moreover the capture of non-commercial species (fish, sea birds, sponges…) severely impacts the marine environment by disrupting the balance of the ecosystem and attacking its biodiversity.
The reasons behind discards are both economic, for example, when there is no market for certain species or when fishermen discard marketable species in order to keep only the highly valuable ones (called "high- grading"), and regulatory, such as when vessels don't have an allocated quota for these species or the catch is below minimum landing size. In addition, the low selectivity of many fishing gears and/or techniques can also favour high by-catch and discard rates.
Although calls for action have been made from all stakeholders, the European Union has until now, failed to properly tackle these issues. The little progress that has been made relates to the approval of recommendations and technical measures. However, the reality is that no advances have been significant enough to positively impact fisheries. High levels of unwanted, and often unreported, by-catch and discards have left many European fish stocks in dire states.
This unacceptable side effect of Europe's fisheries policy runs counter to the objectives expressed in the main regulations of the Common Fisheries Policy, the Marine Strategy Framework Directive and in the Integrated Maritime Policy, as well as some international commitment (eg. Conventions on Biological Diversity; FAO). The upcoming reform of the Common Fisheries Policy provides a crucial opportunity to address this problem and establish a legal framework to move towards a more sustainable management of fisheries.