Report | August, 2012
Do You Know Where Your Seafood Comes From?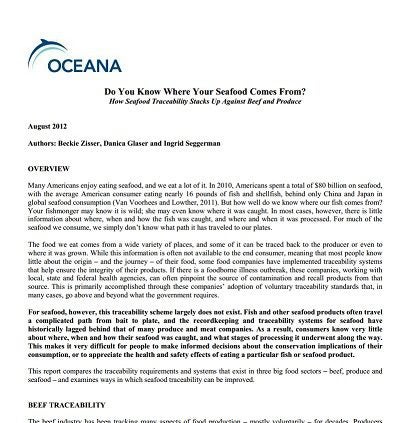 Many Americans enjoy eating seafood, and we eat a lot of it. But how well do we know where our fish comes from? Your fishmonger may know it is wild; she may even know where it was caught. In most cases, however, there is little information about where, when and how the fish was caught, and where and when it was processed. For much of the seafood we consume, we simply don't know what path it has traveled to our plates.
The food we eat comes from a wide variety of places, and some of it can be traced back to the producer or even to where it was grown. While this information is often not available to the end consumer, meaning that most people know little about the origin – and the journey – of their food, some food companies have implemented traceability systems that help ensure the integrity of their products.
For seafood, however, this traceability scheme largely does not exist. Fish and other seafood products often travel a complicated path from bait to plate, and the recordkeeping and traceability systems for seafood have historically lagged behind that of many produce and meat compani es. As a result, consumers know very little about where, when and how their seafood was caught, and what stages of processing it underwent along the way.
This makes it very difficult for people to make informed decisions about the conservation implications of their consumption, or to appreciate the health and safety effects of eating a particular fish or seafood product.
This report compares the traceability requirements and systems that exist in three big food sectors – beef, produce and seafood – and examines ways in which seafood traceability can be improved.