Report | August, 2015
Expedition 2014 Balearic Islands Cabrera National Park and Mallorca Channel Seamounts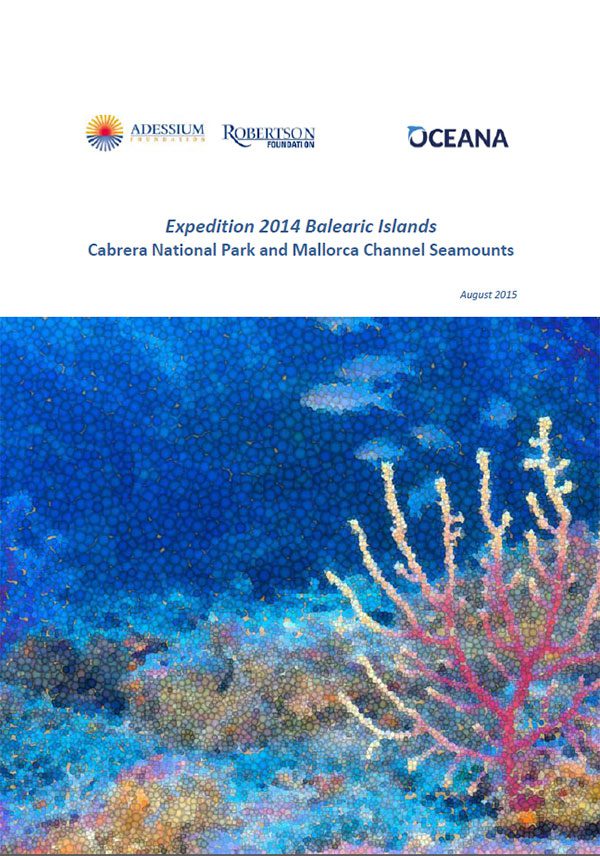 This study details the results of the oceanographic campaign undertaken by Oceana in waters off the Balearic Islands in August 2014, to investigate the marine areas of Fort d'en Moreu and the seamounts in the Mallorca Channel. After several expeditions in this area by Oceana over the past few years, there is a wealth of scientific information available. We have combined important knowledge about the habitats and species present on the sea floor, and have drawn up long lists of species and habitats that are, among other things, protected, threatened or of commercial interest. As this involves the protection of a large marine area, the more knowledge we have about the ecosystems present the better, as this will enable us to develop a more comprehensive, accurate and appropriate protection proposal.
For this reason, in August 2014 Oceana undertook its sixth oceanographic expedition to the waters off the Balearic Archipelago, with the aim of increasing our knowledge of the biodiversity of the two zones proposed for protection: the surroundings of the Cabrera National Park and the seamounts in the Mallorca Channel (Figure 1). The research carried out has resulted in a considerable increase in the surface area investigated and the information available on the ecosystems and communities present.
In the area studied to the east of the Cabrera National Park, in the neighbourhood of the coralligenous reef known as Fort d'en Moreu, within the limits of the area proposed for the extension of the National Park, it has been demonstrated that the rhodolith beds are more widely distributed than was previously thought, particularly to north and northwest of this reef. These sea floors are of enormous ecological importance, given the diversity of species that live there. The habitats are protected by various fishery and environmental legislation at national and international levels. Their conservation requires detailed studies and description,and is obligatory for Member States and all the signatory States of the Barcelona Convention, Spain being among these.
In the seamounts of the Mallorca Channel, named Emile Baudot, Ausiàs March and Ses Olives, new deep areas have been studied, resulting in several interesting findings. On the one hand, habitats have been documented whose presence was previously unknown in this area, including extensive fields of crustaceans from the Ampeliscidae family. On the other, we have gathered new data on the presence and distribution of black coral gardens (Leiopathes glaberrima), fields of bamboo coral (Isidella elongata), ancient coral reefs (possibly Madrepora oculata and Lophelia pertusa), and fields of rare lithistid sponges (Leiodermatium pfeifferae), all of which are habitats of enormous scientific and ecological interest. A further highlight was the discovery of four amphorae and, observed via a radar system, what seems to be a set of at least 33 further amphorae, at a depth of 500 m on one of the slopes of Ses Olives.