Report | October, 2011
False Sense of Safety: Safety Measures Will Not Make Offshore Drilling Safe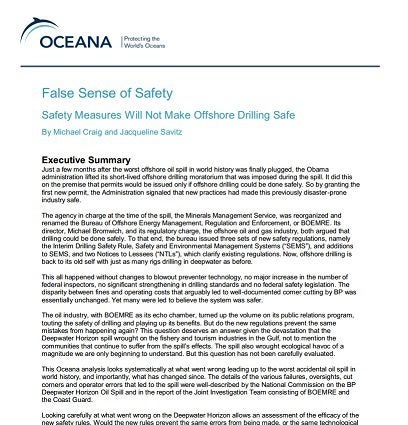 Just a few months after the worst offshore spill in world history was finally plugged, the Obama administration lifted its short-lived offshore drilling moratorium. In the year since, numerous drilling permits have been issued by the government and offshore drilling has gone right back to full steam ahead.
The government and industry, in justifying this growth in offshore drilling, have pointed to new safety measures implemented since the Deepwater Horizon by BOEMRE, the offshore regulator. Those safety measures, government and industry have said, make offshore drilling safer. Despite these claims, there has been little detailed analysis of what effect these new safety measures will have on the safety of offshore operations, both for humans and the environment.
This Oceana report analyzes for the first time how effective new safety measures will be in preventing future spills. In doing so, we look systematically at what went wrong leading up to the Deepwater Horizon disaster, and consider whether new safety measures would have prevented the disaster.
Our report identifies many overarching problems in offshore regulation that have not yet been addressed and that limit the effect of new safety measures on offshore drilling safety. We also identify flaws in many of the new safety measures themselves which further limit their effect. As a result of both problems, the new safety measures do not and will not make offshore drilling safe. Only by stopping offshore drilling will we be able to avert disastrous spills and significant economic and environmental harm.
Be sure to check out our online appendix showing an analysis of each new safety measure's effect on safety.