Report | April, 2010
Italian driftnets: illegal fishing continues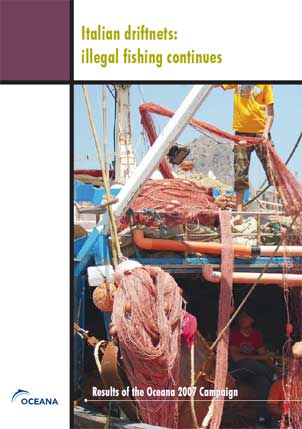 The use of driftnets to capture large pelagic species is illegal because they are a threat to the conservation of various species of cetaceans, sea turtles and sharks. The first measures against the use of this fishing gear were adopted by the United Nations more than 15 years ago. These nets, however, known as "walls of death", continue to be used around the world.
Oceana campaigns against the use of driftnets in the Mediterranean. For the third consecutive year, observations have been made in ports and on the high seas to identify and report the use of driftnets, an Illegal, Unreported and Unregulated fishing activity (IUU) within the terms defined by the Food and Agriculture Organisation of the United Nations (FAO). Within this context, the case of the Italian fleet is notorious. Through various conversion plans implemented more than 10 years ago, this fleet received subsidies from public funds. From the results obtained and presented in this report, it is estimated that more than 137 Italian vessels continue using this illegal fishing gear, after having received substantial subsidies for conversion. The vessels identified by Oceana received a total of over 900,000 to subsidise their conversion.
The report provides a comprehensive overview of the use of driftnets in Italy, investigates the causes of the persistence of this illegal gear, analyses the possible failures in management and proposes recommendations, not only for the complete elimination of this fishing gear, but also as a contribution to the development of future management measures to be adopted within the Community fisheries policy framework.
Redes de deriva italianas: la continuidad de una pesca ilegal
Reti derivanti illegali italiane: la pesca illegale non si ferma