Report | August, 2011
Joint Agency Evaluation of the Spring and Fall 2000 North Slope Broken Ice Exercises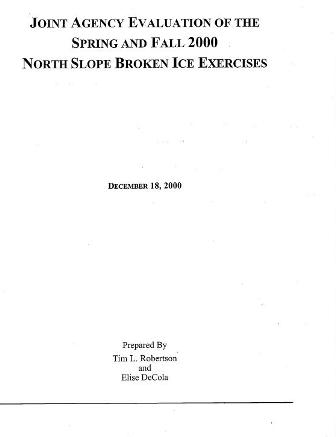 During the Spring and Fall of 2000, a series of exercises were held to evaluate oil spill response capabilities on the North Slope during broken ice conditions. The exercises were conducted by BP Exploration (BPXA) to test the response tactics and strategies contained in their contingency plans for their North Slope Operations.
The Alaska Department of Environmental Conservation and the Minerals Management Service provided primary oversight during these exercises, with participation from other local, state and federal agencies. This report summarizes those observations and evaluates the outcome of each exercise trial.
These studies showed that the maximum oil we might expect to recover in calm seas with minimum icy Arctic conditions would be:
~0-1% in fall ice conditions
~10% in spring ice concentrations, without ice management
~30% in spring ice concentrations, with extensive ice management
The trials also identified many mechanical response limitations in broken ice conditions. Neither booms nor skimmers worked in ice. There have been no new public tests in the US Arctic since 2000.