Report | October, 2014
Shrimp: Oceana Reveals Misrepresentation of America's Favorite Seafood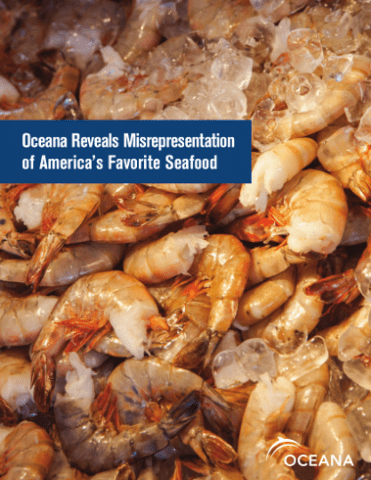 Oceana study reveals misrepresentation of America's favorite seafood – shrimp – across the United States. In the only known study of its kind in the U.S., DNA testing confirmed that 30 percent of the 143 shrimp products tested from 111 grocery stores and restaurants were misrepresented. Oceana also found that consumers are often provided with little information about the shrimp they purchase, including where and how it was caught or farmed, making it difficult, if not impossible, for them to make informed choices.
Oceana found misrepresented shrimp everywhere it tested, including rates of 43 percent in New York, NY, 33 percent in Washington, D.C., 30 percent in the Gulf of Mexico region (Pensacola and Fort Walton Beach, FL; Mobile and Orange Beach, AL; Biloxi and Ocean Springs, MS; New Orleans and LA, Louisiana; and Houston and Galveston, TX) and 5 percent in Portland, OR. Oceana defined misrepresentation as products that were mislabeled (one species swapped out for another), misleading (e.g. farmed species labeled as "Gulf"), or mixed/mystery (e.g. commingling species among bagged shrimp).
Overall, 35 percent of the 111 vendors visited nationwide sold misrepresented shrimp. Of the 70 restaurants visited, 31 percent sold misrepresented shrimp, and 41 percent of the 41 grocery stores visited sold misrepresented products. However, shrimp purchased from grocery stores and restaurants were misrepresented at the same rate – 30 percent.
Media Contacts:
B-roll available upon request. Please contact Dustin and Amelia.