Report | October, 2015
Oceana recommendations on fishing opportunities for 2016. Baltic Sea Stocks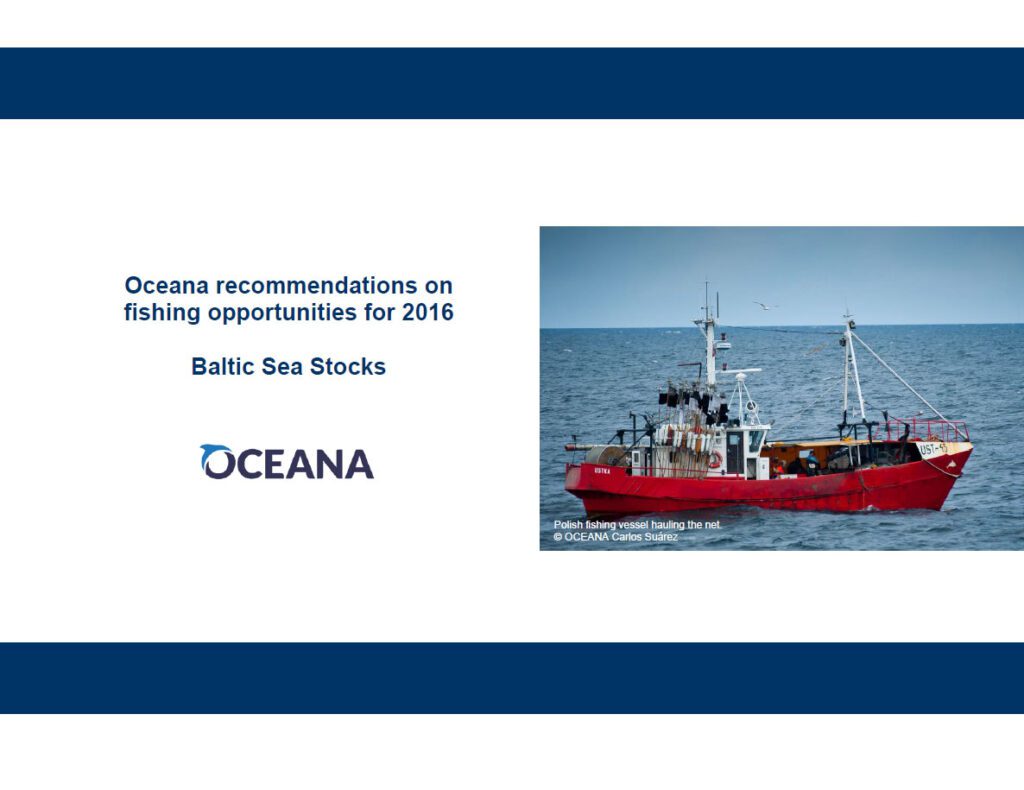 In advance of the next EU Fisheries Council decision on fishing opportunities in the Baltic Sea, Oceana releases its recommendations for setting total allowable catches (TACs) for 2016, in line with the most recently available scientific advice and aimed at ensuring EU fisheries recover from overfishing within the committed deadlines.
EU Member states shall ensure that TAC levels are in line with scientific advice and guarantee that stocks are fished within MSY levels as soon as possible and no later than 2020, as laid down under the Common Fisheries Policy (CFP). Oceana wants to stress that after this deadline, overfishing EU stocks will become illegal under EU law.
The end of overfishing is necessary not only to guarantee the sustainable exploitation of fish resources and to recover the profitability and social prosperity of the fishing activity, but also as a condition with which to achieve the good environmental status (GES) of the oceans, the main goal of the Marine Strategy Framework Directive, which has another 2020 deadline. To achieve this, Oceana urges the European Council of Ministers to set fishing opportunities that are in line with scientific advice and consistent with the objectives of the CFP.
Some commercial stocks in the Baltic Sea lack proper management, such as TAC or effort control, including, for example, most of the flatfish stocks as well as sea trout.
In order to ensure the long-term stability of Baltic Sea fisheries, the EU Council of Ministers needs to:
Follow scientific advice in setting fishing opportunities and prioritising stock recovery;
Set the TACs for both eastern and western cod stocks, ensuring long-term recovery and putting an end to overfishing;
Stop all directed sprat fisheries in areas 25-26 and redistribute fishing efforts to the northern areas to allow cod stocks to recover;
Support the immediate adoption and entry into force of the new Baltic MAP to ensure the future of Baltic Sea fish stocks.