Report | November, 2010
Seamounts of the Balearic Islands | 2010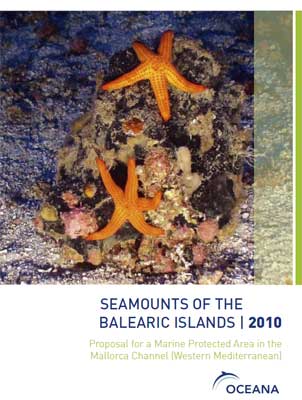 In the Western Mediterranean, the highest concentration of seamounts occurs in the Alboran Sea and adjoining areas, as is the case of Seco de los Olivos seamount off Almeria or the seamounts and volcanic cones off Alboran. The LIFE+INDEMARES project focuses on these mounts and from 2009 to 2013 the project will study 10 Spanish marine areas for their inclusion in the Natura 2000 network, along with other areas of special ecological interest.
Currently, there are 10 named seamounts in the Balearic promontory or adjoining areas: Four are in the Mallorca Channel (Emile Baudot, Ausias March, Ses Olives and Guyot Bel), one is in the Ibiza Channel (Xabia), one is south of Formentera (Prunnes), one is north of Mallorca (Cresques), one is north of Ibiza (Morrot de Sa Dragonera) and two are south of the Menorca canyon (Jaume 1 and Colom), although other seamounts are pending designation.
THE SEAMOUNTS OF THE MALLORCA CHANEL
The seamounts in the Mallorca Channel are especially unique: Emile Baudot, Ausias March and Ses Olives are located in the heart of the Mallorca Channel, between the islands of Ibiza, Formentera and Mallorca. Furthermore, up to 118 pinnacles were identified near Emile Baudot, forming a veritable volcanic field.
The peaks of two of these mounts, Emile Baudot and Ausias March, are located at a depth which allows the development of red algae.
Emile Baudot
This is the southernmost of the three seamounts. It is located roughly 40 nautical miles SW of the Cabrera archipelago at 38°42'N and 002°20'E. Of volcanic origin, this seamount is found W of the Cabrera canyon, atop the crest of the Emile Baudot escarpment, from which the seabed falls almost vertically to over 2,000 meters deep. Both the seamount and the escarpment have been the subject of various geological studies6.
Ausias March
Continental in origin, it is located roughly 10nm ENE of Formentera at 38º 44'N and 001º 48'E. It extends between 90 and 120 meters deep and from there, it falls softly down to 400 meters, and continues falling more slowly after that.
Ses Olives
Located 20 nautical miles E of Ibiza, at 38º.57'N and 002º.00'E, it is the smallest of the seamounts of the Mallorca Channel, although it is located in the deepest waters. Like Ausias March, it is continental in origin.