Report | April, 2010
Supporting the TAC/Quota system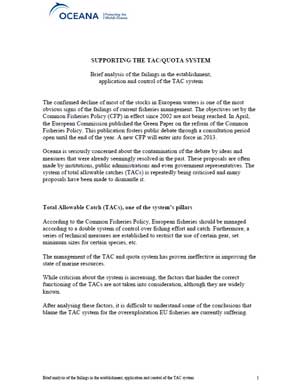 The confirmed decline of most of the stocks in European waters is one of the most obvious signs of the failings of current fisheries management. The objectives set by the Common Fisheries Policy (CFP) in effect since 2002 are not being reached. In April, the European Commission published the Green Paper on the reform of the Common Fisheries Policy. This publication fosters public debate through a consultation period open until the end of the year. A new CFP will enter into force in 2013.
Oceana is seriously concerned about the contamination of the debate by ideas and measures that were already seemingly resolved in the past. These proposals are often made by institutions, public administrations and even government representatives. The system of total allowable catches (TACs) is repeatedly being criticised and many
proposals have been made to dismantle it.