Report | December, 2022
The Cost of Amazon's Plastic Denial on the World's Oceans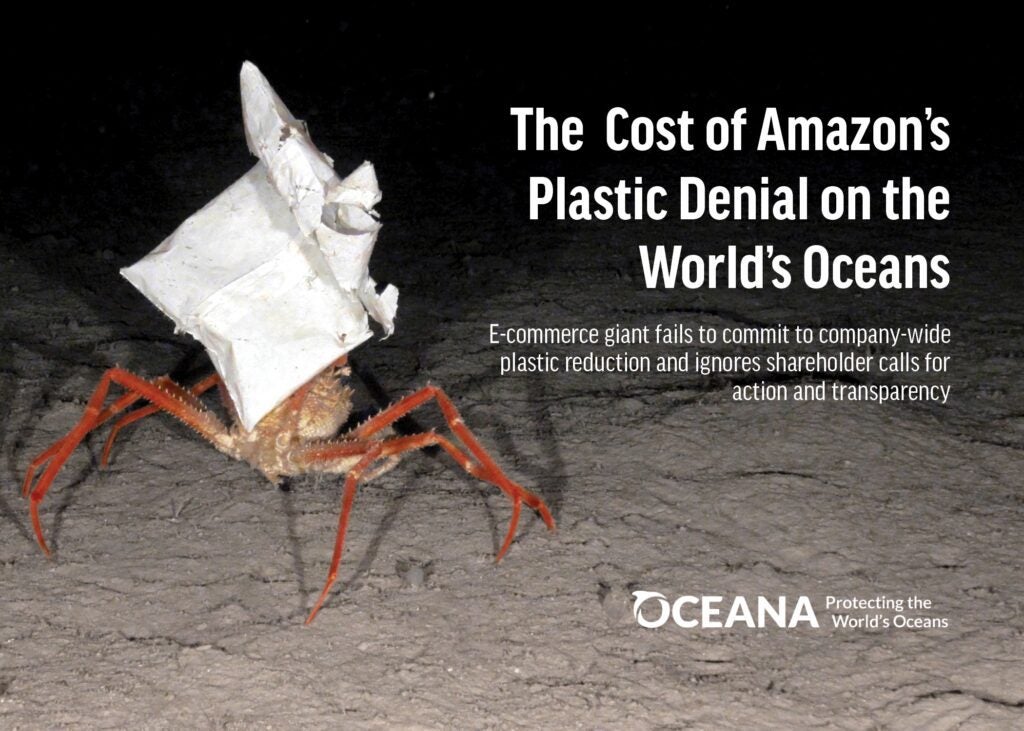 For the third year, Oceana analyzed e-commerce packaging data and found that Amazon generated 709 million pounds of plastic packaging waste in 2021. This is a 18% increase of Oceana's 2020 estimate of 599 million pounds and is enough plastic to circle the Earth more than 800 times in the form of air pillows. Oceana found, based on data from a peer-reviewed study on plastic waste pollution published in Science in 2020, that up to 26 million pounds of this plastic waste will end up in the world's waterways and seas.
Plastic is a major source of pollution and is devastating the world's oceans. Sea turtles and other ocean animals mistake the kind of plastic used by Amazon – primarily plastic film – as food, which can ultimately prove fatal.
Amazon refuses to outline a plan and commit to a company-wide reduction in plastic use. In doing so, the company is ignoring its shareholders. At its Annual General Meeting in May 2022, nearly 49% of Amazon's shares voted in favor of a resolution asking the company to be transparent and address its growing plastic packaging problem. This is the most support that a shareholder-led resolution has received in the company's history.
Despite Amazon's commitment to transparency for its other sustainability efforts (such as its climate initiative), until December 2022, the company has not been transparent about its global plastic packaging footprint. On Dec. 13, 2022, Amazon released a blog which stated, "[i]n 2021, we reduced average plastic packaging weight per shipment by over 7%, resulting in 97,222 metric tons [just over 214 million pounds] of single-use plastic being used across our global operations network to ship orders to customers."
Oceana acknowledges this step towards increased transparency. The reported figure, however, represents only part of the company's global plastic packaging footprint. In contrast to Oceana's estimate, Amazon's disclosure excludes orders made on Amazon's e-commerce platforms that are fulfilled through third-party sellers and it is unclear how much of Amazon's total sales this represents. When Oceana inquired, Amazon declined to disclose this information.
While Amazon claims to have reduced average plastic packaging weight per shipment by over 7% in 2021, it has not disclosed by how much its global plastic packaging footprint grew from 2020 to 2021. Amazon's sales are reported to have grown by 22% in this time period. As sales increase, the company's plastic footprint grows too. Oceana estimated a plastic footprint growth of 18%, accounting for the plastic reduction measures Amazon has taken in some countries (such as India).
Amazon is often cited as one of the most innovative companies on the planet and has demonstrated its ability to create viable solutions to replace and reduce its plastic packaging. Examples of this are its development of a paper-padded mailer and use of returnable packaging in markets like India. The company has even, according to Amazon and local accounts obtained by Oceana, moved away from all plastic packaging use for shipments originating from its own fulfillment centers in Germany, which is the company's second largest market.
It is clear that Amazon can solve its plastic problem. Yet, it is choosing not to commit to do so on a global scale, despite the severe cost of plastic pollution to our oceans and planet.
Visit Oceana.org/PlasticFreeAmazon to learn more.
Media contacts:
Gillian Spolarich | gspolarich@oceana.org 
Anna Baxter | abaxter@oceana.org