March 31, 2021
Another North Atlantic right whale died from entanglement. What does that mean for the future of this critically endangered species?
FWC/Joey Antonelli, taken under NOAA permit 18786
In his chart, researchers noted that Cottontail, a critically endangered North Atlantic right whale, had a distinguishing scar on his lip. As memorable as the mark may have been, scars are not uncommon among this species, which has no choice but to navigate a sea full of fast-moving vessels and perilous fishing gear. Records show that Cottontail's mother bore a scar from a propeller wound, as did his grandmother and great-grandmother, and possibly even further up the matriline.
While some whales escape propellers and fishing lines with a few scars to show for it, many others – like Cottontail – are less fortunate. Last month off the coast of South Carolina, Cottontail was found dead, his body ensnared in fishing ropes. North Atlantic right whales can live up to 70 years, but Cottontail's life was cut short at 11.
Sadly, his fate is a familiar tale. Since 2017, more than 10% of the current North Atlantic right whale population has been killed or seriously injured, according to the U.S. government's log of "Unusual Mortality Events," defined as unexpected or significant deaths that demand immediate attention.
The two leading causes of death are human activities that we have the power to mitigate: entanglements in fishing gear and collisions with vessels. Considering that only about 360 North Atlantic right whales remain – with fewer than 80 reproductive-age females – each unnatural death elevates their risk of extinction.
Based on population estimates and other biological details, U.S. government scientists calculated the number of North Atlantic right whales that can be killed by human actions in a year while still allowing the population to recover. Their findings were alarming, said Oceana Campaign Director Whitney Webber.
"Disturbingly, scientists found that the population can tolerate less than one death per year, or it will not recover," Webber said. "In other words, every death is unacceptable."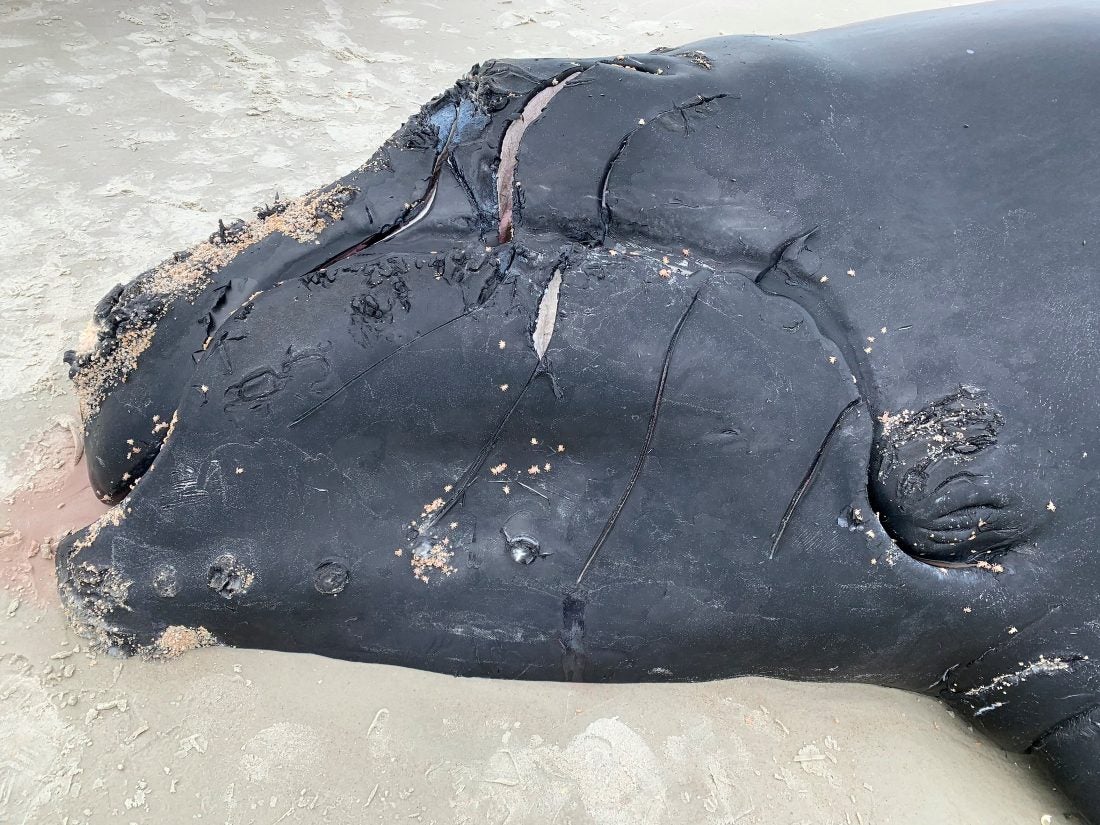 A slow death sentence
Entanglement in fishing gear is a near-constant threat for North Atlantic right whales. Roughly 1 million fishing lines – mostly buoy lines connected to traps and pots that are used to catch lobster and crab – sprawl across right whale migration routes and feeding areas in the U.S. and Canada. Fishing gear from these two countries entangles an estimated 100 right whales each year, with about 83% of all right whales having been entangled at least once.
North Atlantic right whales are strong, but fishing gear is stronger. When fishing rope wraps around a North Atlantic right whale – often tightly, as the whales roll further into the gear in an attempt to escape – it can sever fins and tails, cut into bone, and cause other serious wounds. In some cases, entanglement is a slow, excruciating death sentence. Whales can remain entangled for months or even years, dragging heavy fishing gear with them for hundreds of miles.
According to the National Marine Fisheries Service (NOAA Fisheries), Cottontail was first seen entangled in fishing gear in October 2020 off the coast of Nantucket, Massachusetts. A response team with the Center for Coastal Studies successfully removed some of the gear and attached a tracking device to Cottontail, but due to fog and rough seas, full rescue efforts had to be delayed.
Cottontail was located once again in February 2021 off the Treasure Coast of Florida, but by then, his health had deteriorated. NOAA Fisheries described Cottontail's condition at this time as "severe," characterized by significant weight loss, poor skin, and entanglement-induced trauma on various parts of his body.
Nine days later he was discovered dead with fishing line exiting his mouth and wrapped around his head. The type of line was consistent with that used in Canadian snow crab fisheries, according to the agency.
Cottontail's case not only highlights the dangers of entanglement, but also shows just how long these animals can suffer before succumbing to their wounds.
"We don't know for certain that Cottontail was entangled during the time from October to February, but the kind of entanglement suggests that it might be the same gear," Webber said. "In another case, a whale was entangled with gear that is distinctive to the Gulf of St. Lawrence and found dead entangled off Virginia, suggesting that it had dragged this particularly heavy gear the whole way."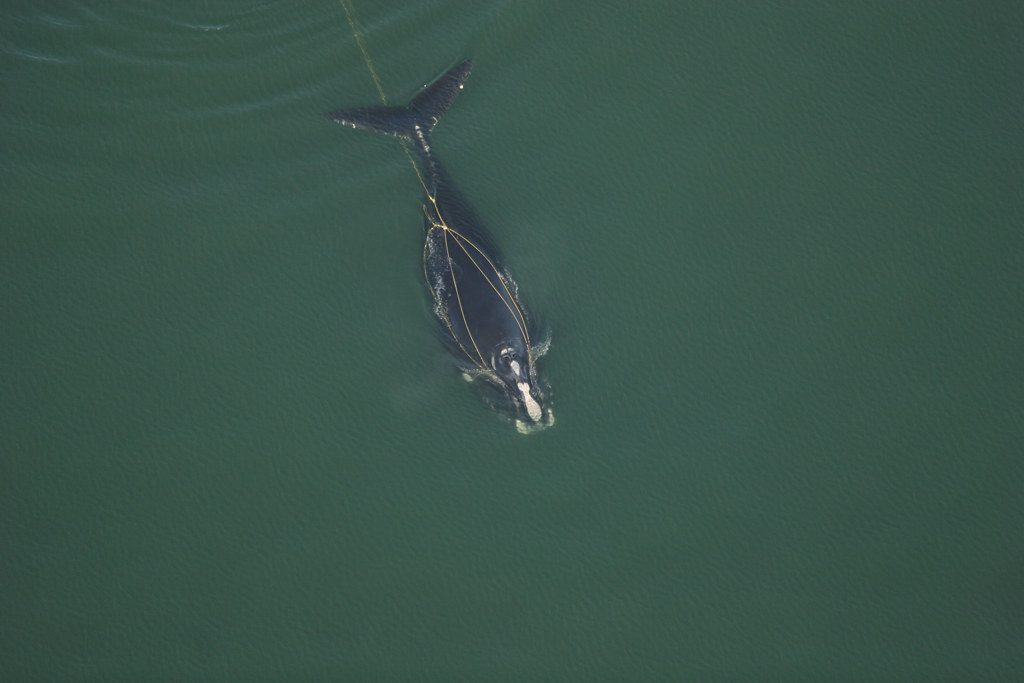 How can we save North Atlantic right whales?
To prevent these types of entanglements, Oceana recommends swift action. For one, the use of vertical lines must be prohibited in areas where North Atlantic right whales are known to frequent. Last December, NOAA Fisheries proposed two new areas in U.S. waters that would do just that. The regulations would also reduce the overall number of vertical lines in the water – another course of action recommended by Oceana – and expand the use of weak rope designed to break if it entangles larger North Atlantic right whales.
Webber said these measures were "long overdue," but explained that the agency relies too heavily on weak rope, which can reduce entanglements for adult North Atlantic right whales but may not be effective for smaller juveniles or calves. Fortunately, we have alternatives. Oceana believes that "ropeless" fishing gear, which eliminates vertical lines, can help reduce the risk of entanglement while still allowing fishers to carry on their work.
After a careful review of NOAA Fisheries' proposed regulations, Oceana and its allies submitted several hundred thousand comments arguing that these measures, as a whole, do not go far enough to protect North Atlantic right whales. The agency is now considering this input and is expected to issue a final set of regulations this summer.
In addition to reducing the number of vertical lines in the water, entanglements must be closely monitored to determine if regulations are working, Webber said.
As for the second threat of vessel collisions – which likely caused some of the scars seen on Cottontail's mother, grandmother, and great-grandmother – Oceana urges stricter measures to reduce vessel speeds in areas where North Atlantic right whales are present. Collisions can cause blunt force trauma and deep gashes, both of which can prove fatal.
At normal operating speeds, ships cannot maneuver to avoid North Atlantic right whales. Though they are large, these mammals pale in size to many vessels, which can be wider than a football field. However, even smaller vessels can do serious damage.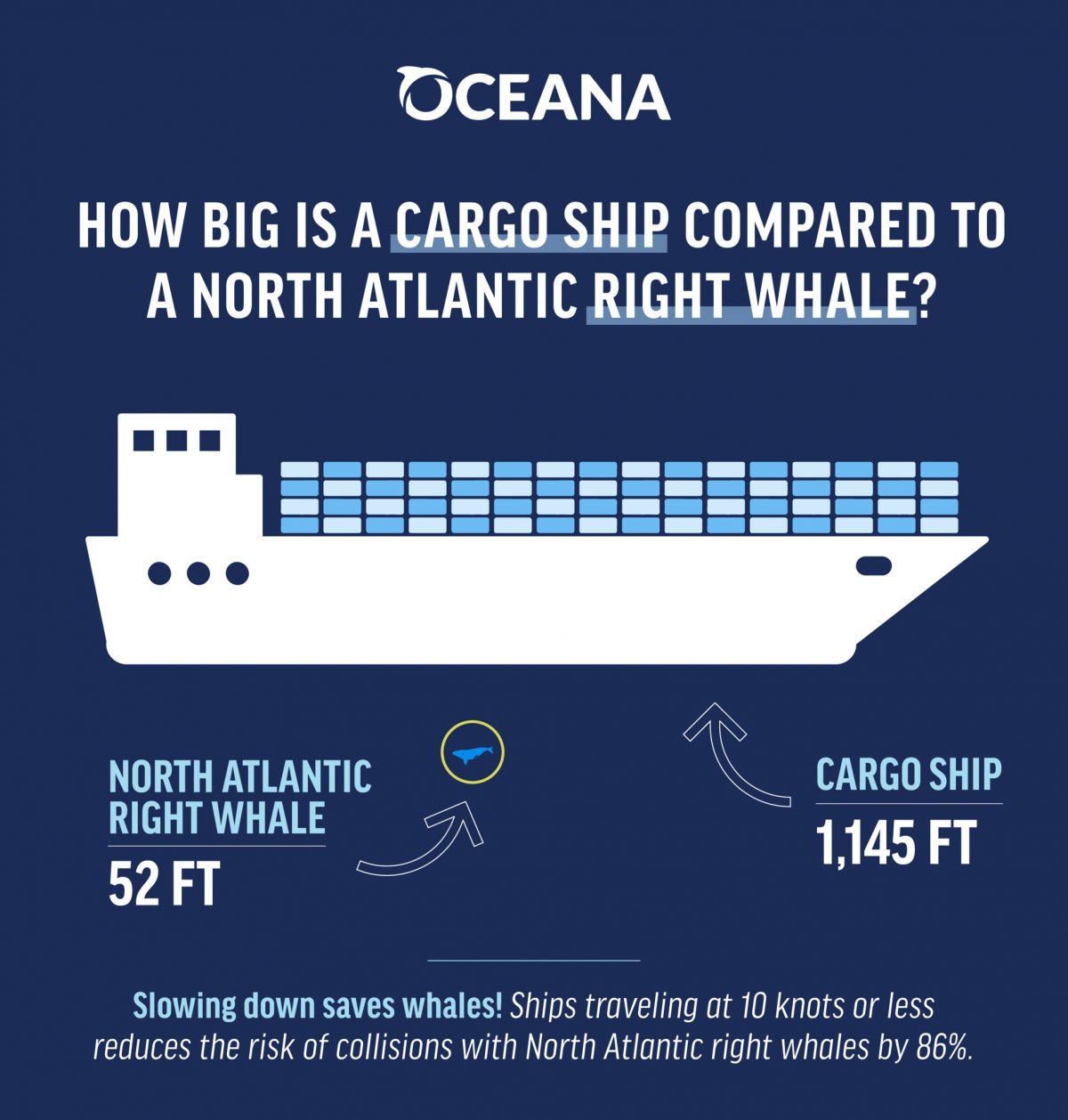 Both the U.S. and Canada have enacted mandatory and voluntary speed restrictions, or "slow zones," in North Atlantic right whale conservation areas. However, analyses of the voluntary zones by Oceana found that many vessels are going faster – and in some cases, significantly faster – than the recommended maximum speed of 10 knots. A new report from Oceana Canada found that two-thirds of vessels traveling through the Cabot Strait ignored voluntary slowdown measures.
Oceana Canada Campaign Director Kim Elmslie said the voluntary slowdown must become mandatory.
"We know that slower speeds can help save right whales: the slower the vessel, the higher the likelihood of a whale surviving a collision," Elmslie said. "We also know that voluntary slowdowns are not working. The government must do everything possible to protect these whales, including putting in place a mandatory, season-long slowdown in the Cabot Strait."
In addition, Oceana Canada recommends that the government extend speed restrictions in the Gulf of St. Lawrence to all vessels; increase transparency of fishing fleet movements by releasing all Vessel Monitoring System (VMS) data publicly; reduce the amount of fishing rope in the water; and improve the monitoring of right whales, using that data to inform fisheries slowdowns or closures, as needed.
"If the government implements stronger protection measures now, it is still possible to turn the tide and change their fate to recovery," Elmslie said.
You can help by adding your name to the growing list of people who have called on the U.S. and Canadian governments to protect North Atlantic right whales. It is too late to save Cottontail, but it is not too late to save the remaining 360 North Atlantic right whales that continue to be threatened by human activities.
To learn more about Oceana's campaign to protect North Atlantic right whales, click here.