Report | October, 2021
China's Fisheries Subsidies Propel Distant-Water Fleet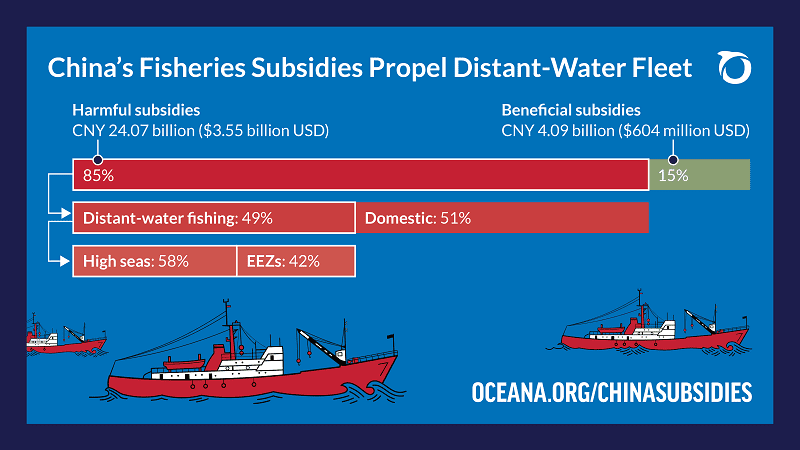 A new analysis of China's fisheries subsidies reveals decreasing transparency in reporting and continued heavy subsidization of their distant water fleet, but also documents a drop in domestic subsidy spending. Though the use of government subsidies is widespread, they often incentivize harvest that would otherwise be unprofitable – and unsustainable. Indeed, the Chinese government's 13th five-year plan for 2016-2020 acknowledged the need to reduce the impact of fishing. And findings from Tabitha Grace Mallory, Chen Hao, and Leng Danyan of the China Ocean Institute and the University of Washington appear to confirm reductions in fuel subsidies, especially for the domestic fishing industry. Worrying, however, is the trend toward opacity in reporting and the disproportionate flow of subsidies – the vast majority harmful – to the distant-water fishing (DWF) industry.
China's subsidies financing structure and reporting has changed considerably in the past few years. Prior to 2016, China would issue a detailed report of its fisheries subsidies programs and amounts in the annual China Fisheries Yearbook. That has now ceased. As a prime example, the Chinese central government no longer allocates or tracks fuel subsidies to the distant-water fishing industry. Instead, it now provides general funding at the subnational level that allow the subsidies to be used with discretion for fuel or other allowable spending categories, ranging from vessel decommissioning to construction. When China issued a notification of its subsidies to the World Trade Organization (WTO) in 2019, detailing fisheries subsidies programs for 2017 and 2018, it did not include an estimate for fuel subsidies because of these reporting changes.
As the world's largest fishing nation and largest fisheries subsidizer, China's subsidy program has an outsized impact on the sustainability of global fish stocks. This is especially notable given the disproportionate allocation (42%) to vessels fishing outside China's waters, despite accounting for only 22% of China's catch. Given China's major role in the ongoing WTO fisheries subsidies negotiations, where harmful DWF subsidies and reporting protocols are key sticking points, it is essential that the global community understands the scale, scope and nature of China's fisheries subsidies program.
For further information on making distant-water fishing more transparent and accountable, please visit Oceana's Transparent Oceans Initiative.
Media contact: Anna Baxter, abaxter@oceana.org; +1 202 868-4064
All other inquiries: Philip Chou, pchou@oceana.org;  +1 202 258-0148