Report | March, 2022
Fish crimes in the global oceans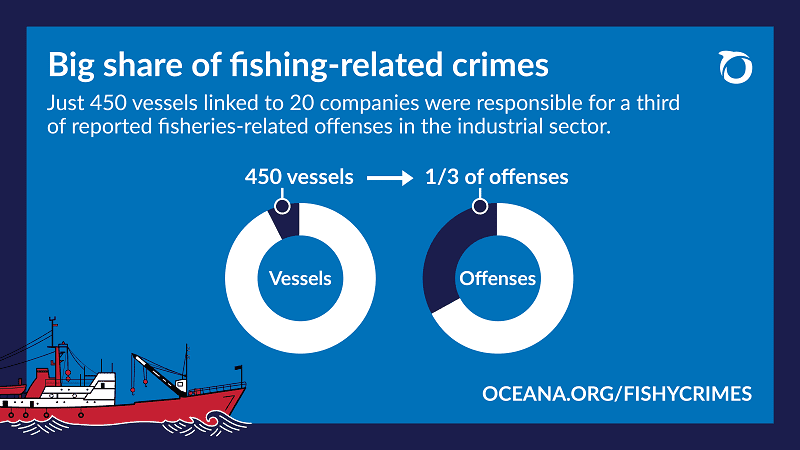 Fishing-related crime is highly concentrated and sanctions are often inadequate, according to new research using global data to analyze the links between illegal fishing and other maritime crimes like forced labor, drug trafficking, and money laundering.
The study published in Science Advances, led by Dr. Dyhia Belhabib of Ecotrust Canada and Nautical Crime Investigation Services, reviewed the world's largest database of reported fishing-related offenses, finding roughly half of all illegal fishing incidents involved fishing without a permit, mostly committed by artisanal fishers; about one-third were other types of fishing violations like under-reporting catch; and 11% involved labor and human rights violations, almost all committed by industrial fishers.  At least one-third of all recorded offenses are associated with just 20 companies and 450 industrial fishing vessels out of 6,053 listed in the database.  Five of these offenders are among the top 10 companies in the world fishing in the high seas and at least 59% of offenses come from Chinese-owned vessels.
In a second study, published in December 2021 in the journal Nature Human Behaviour, the authors examine illegal activity in artisanal fishing. Greed is rarely the main driver of illegal practices in this sector. More important drivers include poverty and displacement from traditional fishing grounds by industrial vessels. And yet current law enforcement criminalizes small-scale fishers and fails to address the drivers of illegal activity, according to the authors.
Oceana and the researchers recommend tougher penalties, like sanctioning beneficial owners and blacklisting vessels of the worst offenders from national registries and adopting new policies that better incentivize behavior change, such as decriminalizing some artisanal fishing violations in favor of more cooperative approaches like gear buy-back programs and more community-inclusive management schemes.
Later, in November 2022, the authors published a third paper in Frontiers in Marine Science examining fishing in West Africa. They show that 73 percent of vessels authorized to fish in West Africa come from foreign nations, and that practices including bilateral access agreements, reflagging, and chartering can provide foreign boats with legal cover to commit fishing infractions. Of the vessel operators using a legal cover to commit infractions, most were linked to China and Spain.
To read the studies please see:
For further information on making distant-water fishing more transparent and accountable, please visit Oceana's Transparent Oceans Initiative.
Media contact: Anna Baxter, abaxter@oceana.org; +1 202 868-4064
All other inquiries: Philip Chou, pchou@oceana.org;  +1 202 258-0148